>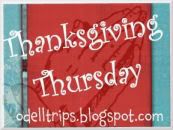 >
I've noticed a few of my bloggy friends playing along with Nicole, from
What a Trip!, on
Thanksgiving Thursday
, and I thought today would be the perfect day to join in! Honestly, we've not had the best week, and I think it's about time to change my focus. There is
so
much I have to be thankful for...
1) My husband, who works ridiculously long hours this time of year and doesn't complain about it. He works so hard to provide for us, and I'm thankful to have married a man who is not only a great husband, but a wonderful dad! The girls truly
adore
him!
2) A weekend getaway! It will just be a little over 24 hours, but I get to go visit a really good friend of mine tomorrow...without the kiddos!!!
3) Silly girls. I'll admit that sometimes I wish they'd tone it down a little, but they
do
keep me laughing!
4) Fabulous friends! I really do have the best friends - ever! I have the kind who know just what to say (or not say), call at the exact moment that I need them, and love me unconditionally, quirks and all!
5) My new iPhone. Shallow, I know, but I love it! Even if it has a mind of its own.
6) Living near family. I live within 20 minutes of my parents and in-laws! They have all come to my rescue numerous times over the last 4 years!!
7) Baby Allen's safe arrival! Our friends
Sara and Robert
had their first baby boy yesterday, and we are so excited for them!! Can't wait to see him...hopefully soon!
8)
BSF
. If you've been reading my blog, you've heard me mention it before, but I'm so thankful for the lessons I'm learning this year! And for what the girls are learning.
9)
Oldnavyweekly.com
. Thanks to a heads up from my sister, I got a coupon for $75 off $100! Seriously!
10) The Imagination Movers! Yes, I'm the adult, but I had just as much fun as my kids at the concert! They were
so
good!
What are you thankful for?